Australia is home to some of the hottest summers in the world, and, for the most part, we're getting pretty good at protecting ourselves from the sun's harmful rays.
Whilst we take the time to protect our skin with sunscreen, it's also vital to think about protecting the environment in which we enjoy the sun as some sunscreens are full of harmful chemicals that can damage our beautiful ocean and the diverse marine life that lives within it.
The great news is that swimmers now have the option of reef-safe sunscreens.
In this article, we'll cover what reef-safe sunscreen is, how chemical sunscreen affects our oceans and reef-safe sunscreens to try this summer.
Interesting Fact: It is estimated that up to 6,000 tons of sunscreen are washed into coral reefs around the world each year.
What is reef-safe sunscreen?
The term 'reef-safe sunscreen' typically means the sunscreen does not contain the chemicals oxybenzone and octinoxate as these are two of the main chemicals which are known to damage and kill coral reefs and affect the quality of our oceans.
These chemical ingredients can be found on the Haereticus Environmental Laboratory (HEL) List, a list of chemicals that are known pollutants in many environments, including freshwater streams, rivers, beaches and oceans.
The HEL list includes chemicals such as; oxybenzone, octinoxate and octocrylene. Find the full HEL list here.
Sunscreens with ingredients titanium oxide and zinc oxide (mineral ingredients) have been proven to not be harmful to the ocean's marine life and corals.
States banning chemical sunscreens
There has been talk for many years here in Australia, on how to regulate chemical sunscreens and ensure people are using reef-safe sunscreen. Unfortunately, all attempts to pass it through parliament and ban chemical sunscreen have failed.
In 2018, the US State of Hawaii and Hawaiian Governor David Ige, passed a bill to ban two specific active ingredients in chemical sunscreens; oxybenzone and octinoxate.
This bill came into effect on January 1, 2021, and was the first of its kind in the US. Key West, Florida, later followed suit. The bill prohibits the sale and distribution of over-the-counter sunscreens containing oxybenzone and octinoxate to try and prevent the deterioration of their coral reefs and marine life.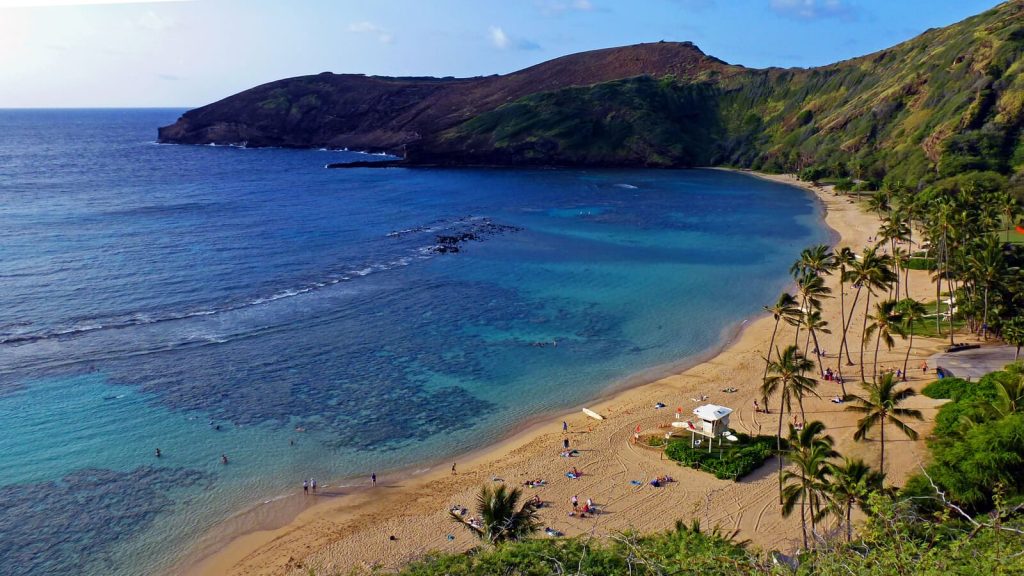 How do chemical sunscreens harm the ocean?
Studies have found that chemical sunscreens can contribute to and accelerate coral bleaching, which is the process where coral expels the colourful algae that lives within its tissue causing it to become colourless, something that is severely affecting our own Great Barrier Reef.
While coral bleaching doesn't directly kill the coral, it does leave it at risk for infections and increased mortality.
Scientists have also found that chemical sunscreens cause viral infections and hardening in corals.
The specific ingredient, octocrylene in chemical sunscreens, has been linked directly to the death of coral reefs.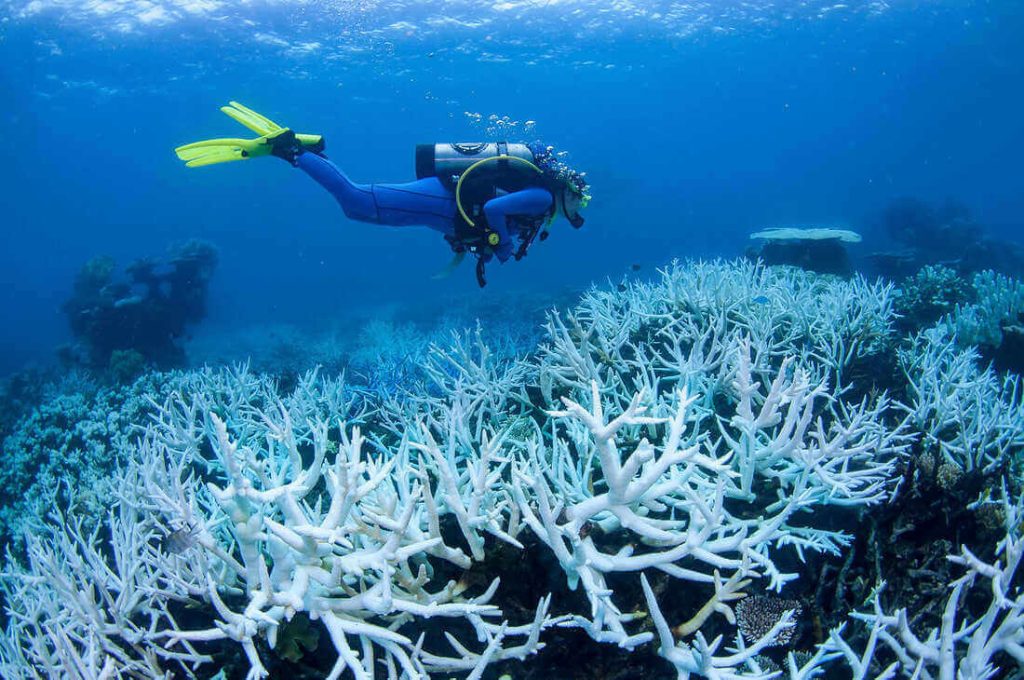 Reef-safe sun protection tips
Sunscreen is one of the main forms of protecting our skin when outdoors, but there are also other ways that can help protect your skin while also protecting the environment.
1. Choose reef-safe sunscreen
Unfortunately, reef-safe sunscreen is not regulated which means a lot of sunscreens for sale contain harmful chemicals. The best way to determine if the sunscreen is 'reef-safe' even if it is labelled 'reef-safe' is to check the ingredients list on the back of the bottle.
Aim to use mineral sunscreens as they will be made from zinc oxide and titanium dioxide and don't contain nano-particles.
2. Wear sun protection clothing
Wearing sun-protective clothing such as rash tops can help significantly reduce the amount of sunscreen you need to wear.
3. Avoid chemicals on the HEL list
Avoid the harmful chemicals on the HEL especially oxybenzone and octinoxate as evidence suggests these are two of the more harmful chemicals to our oceans and reefs.
4. Avoid parabens
Parabens are preservatives commonly found in skin care including some sunscreens. Certain parabens such as Butylparaben have been known to cause coral bleaching.
Simply look for 'paraben-free' on the bottle of your sunscreen when purchasing.
5. Use rub-on lotion sunscreen over spray sunscreen
It's best to use lotion sunscreen and avoid spray sunscreen as spray sunscreen can easily land on the sand and water, causing more damage to the environment, whereas lotion sunscreen goes straight into your skin.
6. Look for water resistance reef-safe sunscreen
A good water resistance reef-safe sunscreen stays on your skin longer and is less likely to wash off while you're enjoying your time in the ocean.
To maximise the water resistance of your sunscreen, always follow the application instructions on the back of the bottle in relation to how long to wait before hitting the water.
7. Spread awareness about 'reef-safe' sunscreen
You may not realise it but you can have a huge influence on your friends and family.
Once you're on the 'reef-safe' sunscreen train, help spread awareness of the importance of changing from chemical sunscreen to 'reef-safe' sunscreen to your friends, family and even your ocean swimming group.
Reef-safe sunscreens to try
Finding reef-safe sunscreen is easier than you may think. You might even be using one already without knowing.
Here are a few reef-safe sunscreens to try:
Sun Bum Sunscreen
Surf Mud Natural Zinc
SunButter SPF50 Sunscreen
People4Ocean Sun Care
Sun & Earth Natural Zinc Cream
Surf LIfesaving Marine Friendly Sunscreen
Eco by Sonya – Natural Rose Hip Sunscreen
We Are Feel Good Inc Sunscreen
Nivea Sunscreen
Simple As That Natural Sunscreen Lotion
Little Urchin Natural Sunscreen SPF 30
Ocean Australia SPF 50+ Body Sunscreen