The holiday season is upon us and Christmas is just around the corner, meaning it's likely to be the busiest time of the year for most people – ocean swimmers included!
Our diaries are filling up with Christmas parties, activities with the kids, lunches with friends and that challenging job of Christmas shopping for everyone.
During this time it's easy to get caught up in the busyness and miss what we enjoy most, our ocean swims and pool sessions!
To ensure you keep your training on track so you feel amazing throughout the holiday season and into the new year, here are our top tips for balancing the holiday season with your swimming.
1. Make a plan
The holiday season brings a full schedule for everyone, long days at work, Christmas parties, shopping and family get-togethers.
The best way to find a balance during this time and fit in your regular swim session is to make a plan.
Schedule your daily swim in between work, shopping and Christmas parties just like you would with a work meeting or doctor's appointment.
At the start of each week, plan out your weekly swims, Christmas parties, work hours and trips to the shops.
Hot Tip: We like getting our daily swim done in the morning, so we've banked it for the day and don't have to worry about missing it later in the day when we get caught up with other things. A morning swim creates less stress for you and gives you that amazing endorphin boost to start your day.
2. Get the family involved
Get the family involved by hitting the beach for an ocean swim or even the pool for a couple of laps.
By getting the family involved, you can squeeze in your training while spending quality time with the family.
Plus, the kids always love a good race between them and their parents.
3. Join a different swim group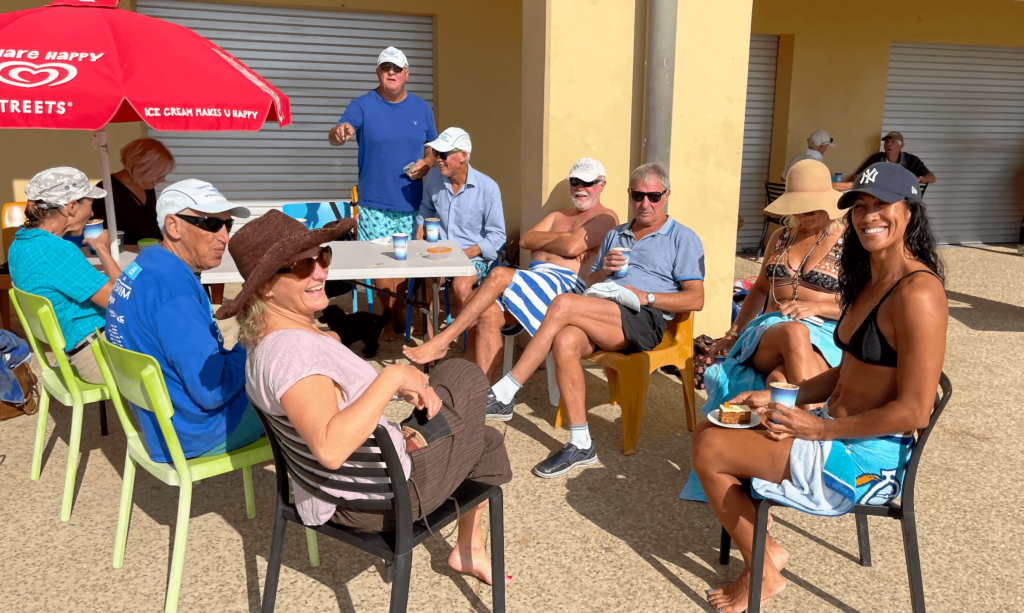 It can be easy to lose your motivation for swimming over the holiday season, but why not spice up your swim routine and try a new swim group.
Mixing up your swim sessions at a new swim group will help keep you motivated, let you try out a new location and introduce you to some new swimming friends for that post-swim coffee we all love.
Most swim groups have open arms and are happy to welcome fellow ocean swimmers to their groups.
To find a swim group search our swim directory for social ocean swimming groups or put a shout-out on the Ocean Swimming Enthusiasts Facebook Group.
4. Don't sweat it
Finding a balance throughout the holiday season can be hard but it's not impossible.
You might be working towards a goal of an ocean swim event after the holiday season, so you want to stay on track with your training but you don't want to miss out on the magical time of the holiday season.
It's important not to stress over missing a swim session or two and enjoy this joyful time with a glass of wine and some sweet treats, after all, balance is key.
5. Try a new ocean swim event
An ocean swim event is a great way to get your ocean swim in during the holiday season.
You get to try out a new swim location, meet fellow ocean swimmers and best of all, support the amazing charities that organise the events.
It's also an easy way to get your body moving and you can even ask your family and friends to join in too.
Find an event near you on our event calendar.