The Cooly Classic (Coolangatta, Qld) is a breathtaking ocean swim with some of Australia's most famous surf breaks, beaches and skylines as your backdrop.
It's simply a swim that you must add to your bucket list and do at least once in your lifetime.
You will swim along iconic beaches; Snapper Rocks, Kirra Beach, Rainbow Bay, Greenmount and of course Coolangatta Beach on your way to the finish line.
The Cooly Classic offers ocean swim five distances; a 1km, 2km, 3km, 5km and 1km junior race for swimmers ages between 10 years old and 16 years old.
We absolutely love this swim and know that after swimming it, you'll agree too.
Here are our top five reasons why we love the Cooly Classic:
1. You'll swim through world-famous surf breaks
The best part of the Cooly Classic is that you not only get to swim through one iconic surf break but five.
Swimmers will pass through some of the most revered surf breaks in the world; Snapper Rocks, Rainbow Bay, Greenmount, Coolangatta and Kirra Beach.
For the most popular swim, the Cooly Classic 2km ocean swim, swimmers will start at the world-renowned surf break, Snapper Rocks, and follow the coast passing through Rainbow Bay, Greenmount, Coolangatta and finishing at Kirra Beach.
2. You'll swim over a beautiful reef and marine life
Whatever distance you choose to do at the iconic Cooly Classic, you will pass over some of the Gold Coasts' most beautiful reefs swarming with beautiful marine life adventuring underneath you.
On your swim north along the coastline you will pass over swarming reefs full of colour and thriving marine life.
Not only is swimming over the reef a beautiful sight but it also makes the swim fly before your eyes.
In previous years, swimmers have seen; turtles, stingrays, dolphins, whales and an array of beautiful fish on their journey to the finish line.
3. You'll follow Southern Gold Coast's scenic skyline
Not only will you be met with beautiful sights in the crystal clear ocean water but you can admire the scenic skyline of Southern Gold Coast, not to mention Surfers in the far distance.
The Southern Gold Coast has some of the most beautiful sky rises, headlands and surf clubs the Gold Coast has to offer.
And you get a front-row seat to view it all while swimming the Cooly Classic.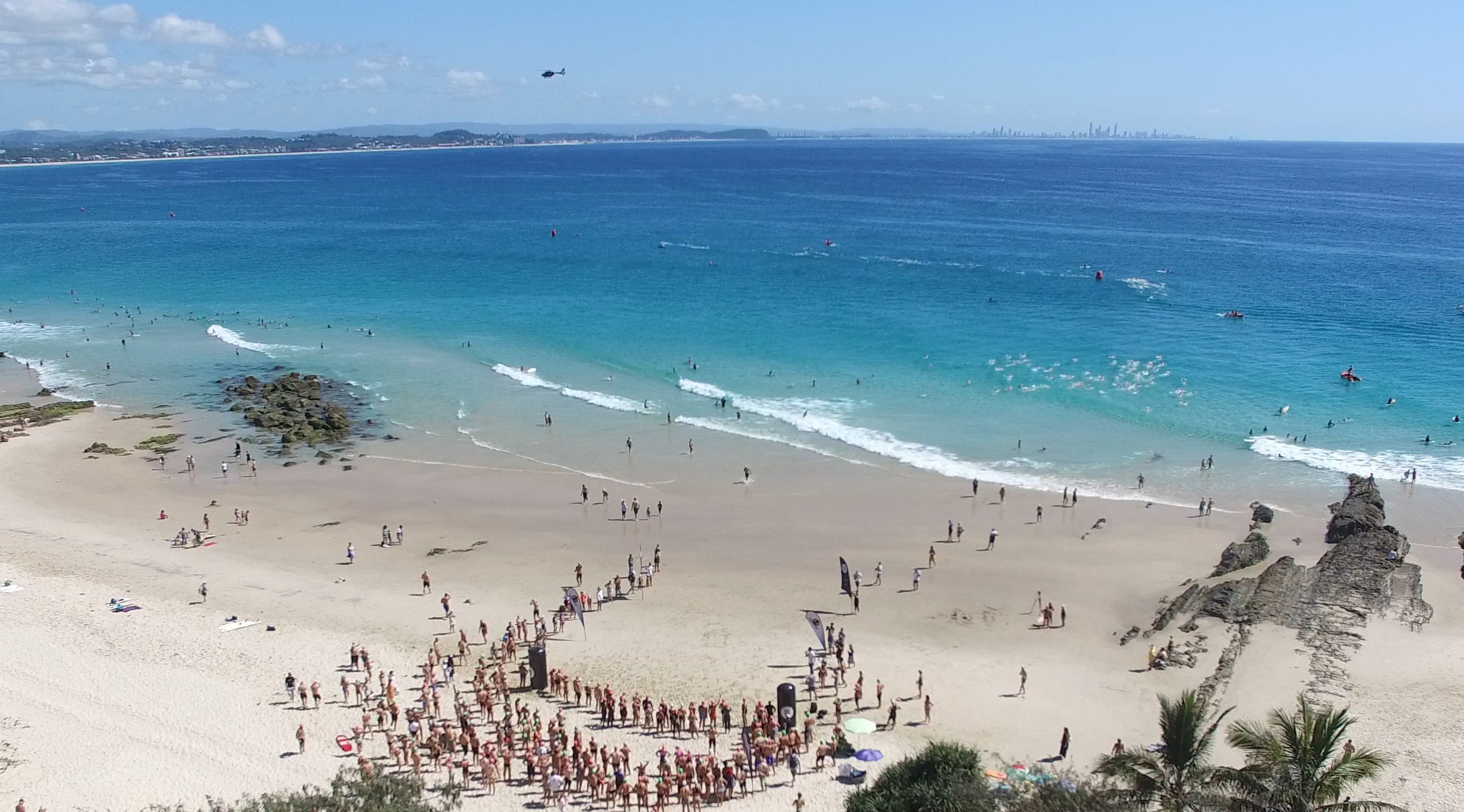 4. You'll love the warm water
Perhaps the best part about ocean swimming in Queensland is the toasty warm water!
Leave the wetsuit at home, because swimming on the Gold Coast is best done sans-rubber.
In April, the month of the event, the water temperature averages 25 degrees, so you can plod along or take on a longer distance knowing it'll be pleasant for a lengthy period in the big blue.
5. You'll be looked after by the best
World Series Swims are seasoned professionals at running ocean swim events, with an array of events to their name such as Noosa Summer Swim, Portsea Swim Classic and Mooloolaba Mile just to name a few.
All their events are well organised and run smoothly allowing you to enjoy your ocean swim.
They always have an array of sports stars participating in their event from triathletes, to swim stars and footy players.
Plus they're always supported by the local surf clubs for water safety and have fruit and refreshing cold water to greet you at the finish line.