We are well and truly into the ocean swims season and events are thriving with spectacular weather and conditions gracing our shorelines this year.
If you've already conquered a 1km ocean swim this season, perhaps it's time to step up and double the distance!
We're here to tell you why you should give a 2km ocean swim a go before winter is upon us.
1. Get rewarded for challenging yourself
Sure a 1km ocean swim event is challenging especially in difficult conditions but if you have already completed a 1km ocean swim you need a new challenge.
Double your ocean swim distance to 2km will help to take your training to the next level and challenge yourself both in the pool and ocean.
Swimming a 2km ocean swim also gives you more time to enjoy the beautiful ocean.
2. Experience different swim locations
Jumping up to the 2km ocean swim distance gives you more options to try different courses and swim at new locations.
The 2km ocean swim event is a popular distance meaning there is almost always a 2km ocean swim at each ocean swim event.
Most 2km ocean swim courses take you over some amazing reefs, past features such as headlands and islands and through some incredible surf breaks.
3. Enjoy the sense of fulfilment
Completing any ocean swim gives your soul a great sense of fulfilment and leaves you feeling proud of your accomplishments.
But, completing your first 2km ocean swim will leave you with an even greater sense of fulfilment and leave you wanting to come back for more.
The best part is you can brag to your family and friends about completing your first 2km ocean swim.
How to find 2km ocean swim events
Search for 2km ocean swims is easy.
Simply use the filters on our Event Calendar to search for events in the 2-2.9km range.
You'll find that a lot of events have a mixture of distances, and the chances are that the events you've swum 1km at, also have a 2km swim or some distance similar.
How to train for a 2km ocean swim
The great news about stepping up to the 2km distance from the 1km is that it might be double the distance, but it's not double the training.
You'll be surprised how easy it is to get to the next level and in this article, we tell you exactly how to train for a 2km ocean swim.
Some of our favourite 2km ocean swim events
1. The Swim Bass Coast (Swim The Island)
Swim the Island has an epic 2km ocean swim that takes you past the rugged coastlines, sandy beaches and of course the penguins of Phillip Island.
2. Beachside Radiology Coffs Coast Ocean Swims
The Beachside Radiology Coffs Coast Ocean Swims held at the beautiful Coffs Habour's Jetty Beach has a 2km which takes swimmers out and around the iconic timber jetty.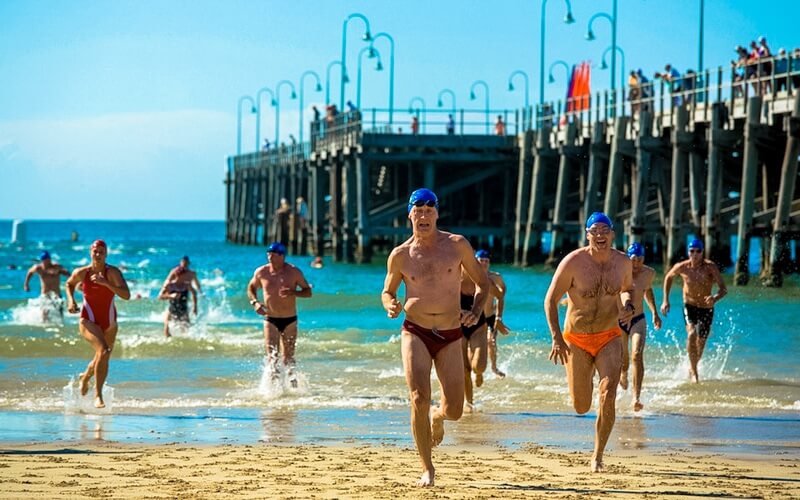 3. Terrigal Ocean Swim Classic
The Terrigal Ocean Swim Classic has an exciting 2km swim which almost guarantees swimmers see beautiful marine life along the way.
4. Warriewood Ocean Swim
The 2km Warriewood Ocean Swim is a regular on the ocean swims calendar on Sydney's Northern Beach and see's swimmers conquer an around-the-buoys course at Warriewood Beach.
5. South Curl Curl Ocean Swim
The 2km South Curl Curl Ocean Swim takes swimmers on an epic journey swim with the swim course going over the beautiful reef, blue water and wonderful sandy bottom.