In a period of just over two years, Greg Johnson, from Mullaloo, Western Australia, climbed to the summit of Mount Everest and swam across the English Channel to become the 12th person to complete the Peak and Pond Challenge.
In this feature, Suzie Ryan talks to Mr Johnson about the Peak and Pond, the challenges and comparisons that come with swimming the English Channel and climbing Mount Everest and what's next for this fearless adventurer.
The Peak and Pond Challenge
The Peak and Pond Challenge is a unique solo achievement where individual adventurers successfully climb Mount Everest and swim the most renowned stretch of water, the English Channel.
This challenge has only ever been achieved by a highly exclusive club of adventurers with only thirteen individuals completing the challenge to date.
The origin of the idea
One might ask, where does the idea to climb the highest mountain in the world and swim one of the most treacherous channels come from?
For Mr Johnson it was simple, he wanted a challenge that would continue to challenge himself both mentally and physically.
"I first found out about the Peak and Pond Challenge when I was climbing Mount Everest in 2019," said Mr Johnson.
"Now, when you are climbing these extreme mountains there is always someone trying to do it better than others, for example, climbing Everest without oxygen or climbing it with one leg.
"So us mountaineers and extreme sports athletes like challenging ourselves. But, I was talking to a friend while climbing Mount Everest about how I had not only climbed quite a few mountains but I was also doing a load of ocean swims and marathon swims.
"He suggested that I might be interested in the 'Peak and Pond Challenge'. He explained that only a finite number of people had ever completed it because not many can climb Mount Everest and swim the English Channel.
"And to me, that sounded like something really interesting and intriguing and well the rest is history."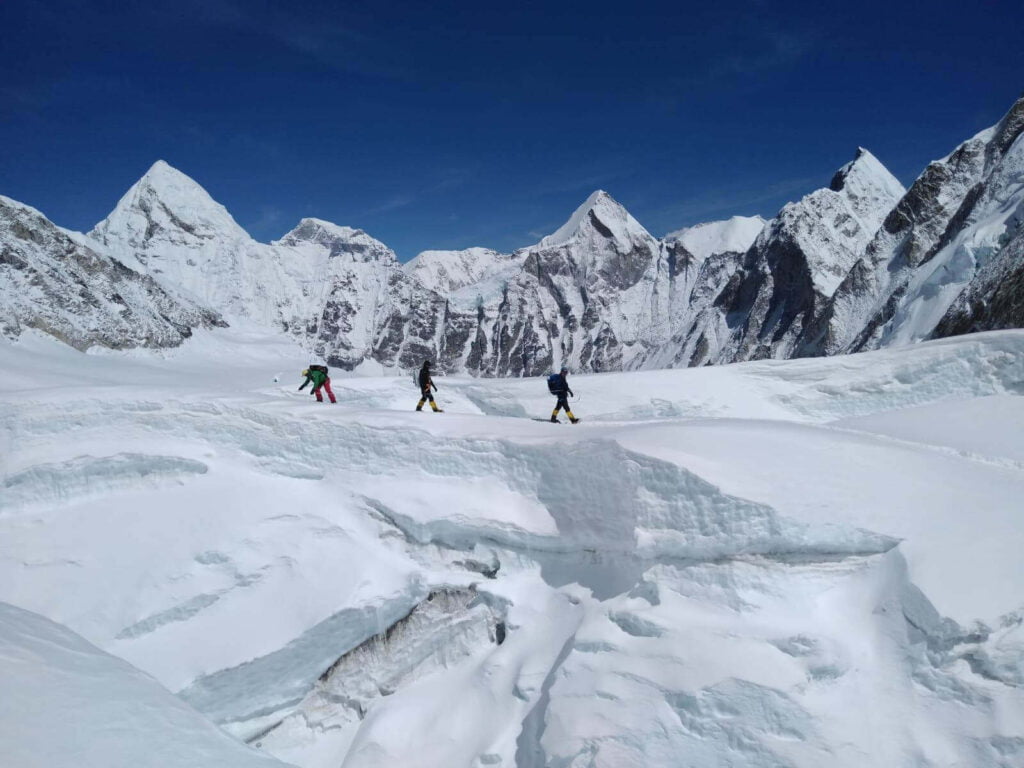 Mr Johnson wasted no time in preparing to complete the Peak to Pond Challenge after conquering Mount Everest.
"Finding out about the idea of the Peak and Pond Challenge really got me going and keen to pursue it," said Mr Johnson.
"I had also just had a friend complete the English Channel and raise money for Lifeline and thought 'Oh I could do that and I'm a pretty strong swimmer', so it makes it seem pretty doable.
"I then booked in to swim the English Channel as soon as I got back from climbing Everest in 2019.
"I also started a two-year training program with the Queen of the English Channel – Chloe McCardel."
Training for the 'Peak and Pond'
As you can imagine, training to complete the 'Peak and Pond Challenge' requires two very different training programs and skillsets.
Having been climbing mountains since he was four years old, and with mountaineering in his blood, preparing for Mount Everest was no different to his other mountain preparations.
"You honestly can't do much training for climbing Mountains over here in Australia, especially in Perth because it is as flat as a pancake, but you just have to do what you can do to get yourself ready and fit," said Mr Johnson.
"When preparing for Mount Everest I had already climbed some of the world's biggest mountains so I knew what I was walking into.
"I am also very lucky because I don't suffer from altitude sickness, which is a big DNA plus and one that many mountaineers which they had."
"But for the English Channel training, I just kept up my swimming, strength sessions and long treks and trusted in Chloe to get me there."
Mr Johnson was in good hands when preparing and training for his English Channel swim, with the 'Chloe' being English Channel swimming record-holder Chloe McCardel.
"After booking in and getting my date to swim the English Channel I started building the kilometres up in the pool as well as my longer training swims," said Mr Johnson.
"I started with 15 to 20-kilometre weeks and then worked my way up to 30-35-kilometre weeks, I also started with five kilometre swims and then moved up to ten-kilometre training swims.
"Two years out was for me really just getting the distance under my arms."
In 2020 Mr Johnson was a year and a half out from attempting the English Channel and he started changing up his training.
"I did the Rottnest Channel Swim twice, in February and then in March again," said Mr Johnson.
"Doing those swims was really just about getting the kilometres in and knowing I could do those distances.
"I also started getting into my cold water training, I did some cold water swims, ice baths and cold showers.
"I did find it tough to start but then I got used to it and just thought 'oh this is different'."
In 2021, Mr Johnson and Ms McCardel amped up his training to ensure he was in prime form for the English Channel.
"I did another two marathon swims in 2021 and then I upped my cold water swims, I started doing those swims at 3am," said Mr Johnson.
"I also went over to Melbourne to see Chloe and I did two, six-hour swims with her.
"After those swims, I really knew I could do the English Channel. I knew what my body would feel and that my shoulder would get tired halfway but I would just have to battle through it.
"And in the end, that was what happened when I did end up doing the Channel."
The Peak: Conquering Mount Everest
On 22 May 2019, after two months on the mountain, Mr Johnson summitted Mount Everest, his fifth peak of the world's highest mountains.
But it wasn't all plain sailing, with a previous injury nearly derailing his attempt.
"I had previously gotten frostbite on both my left and right feet when I did a climb in Alaska so I know there was a possibility that it would come back again while climbing Mount Everest," said Mr Johnston.
"It did and I ended up getting second-degree frostbite on my left and right foot as soon as I reached the summit.
"So pretty much as soon as I reached the summit of Mount Everest, I was just thinking shit, shit, shit, let's get back down to the bottom as fast as I could so the frostbite didn't get worse."
Battling frostbite wasn't the only obstacle Mr Johnson had to overcome, throughout his journey climbing Mount Everest, there were also multiple challenges that pushed him to the limits.
One of the toughest things when climbing Mount Everest was seeing all the dead bodies.
"2019 was one of the worst years for deaths on Mount Everest, it was worse than the 1996 tragedy, so it was a really bad year, unfortunately.
"Things would happen the night before and then we would have to summit the day after and we were just walking over all the dead bodies, so that was quite challenging seeing that.
"Also seeing a friend of mine having to be taken down the mountain with a nasty case of pneumonia and pulmonary edema was quite tough to see too.
"It was hard because you create such a strong bond with the people you are climbing with and to see them not make it was really hard and devastating not only for him but for me too because you know how much they want to do it."
When chatting with Mr Johnson I was curious to know what his favourite moment of climbing Mount Everest was.
"Getting to the actual summit of Mount Everest was amazing but climbing what they call the 'icefalls' was quite phenomenal," said Mr Johnson.
"A bit of backstory for you, when climbing Everest you have to go through an 'icefall' before you get to a camp most of the time, so we were doing quite a few of them.
"These 'icefalls' are notoriously hairy and highly dangerous, you have to go over ladders and the ice and it is just incredible the sights you see.
"There's also a huge sense of history and pride going over these 'icefalls' because you see all the work that the sherpas have put into them in the past and you know that if they didn't do that you wouldn't have had the opportunity to make it to the top of Mount Everest."
The Pond: Conquering the English Channel
Getting his foot on the start line of the English Channel, Mr Johnson felt an immense sense of relief knowing he would get a chance to conquer the Channel after battling the logistics of Covid-19.
"It really did take a lot to get over and get the opportunity to even swim the English Channel," said Mr Johnson.
"I had to get approvals, Covid exemptions and then working out the logistics of the swim.
"So, getting to the UK, it was quite emotional because I knew I had my chance then and nothing was going to keep me from swimming the English Channel.
"It really was a monumental feat because I was the only West Australian who swam that year too."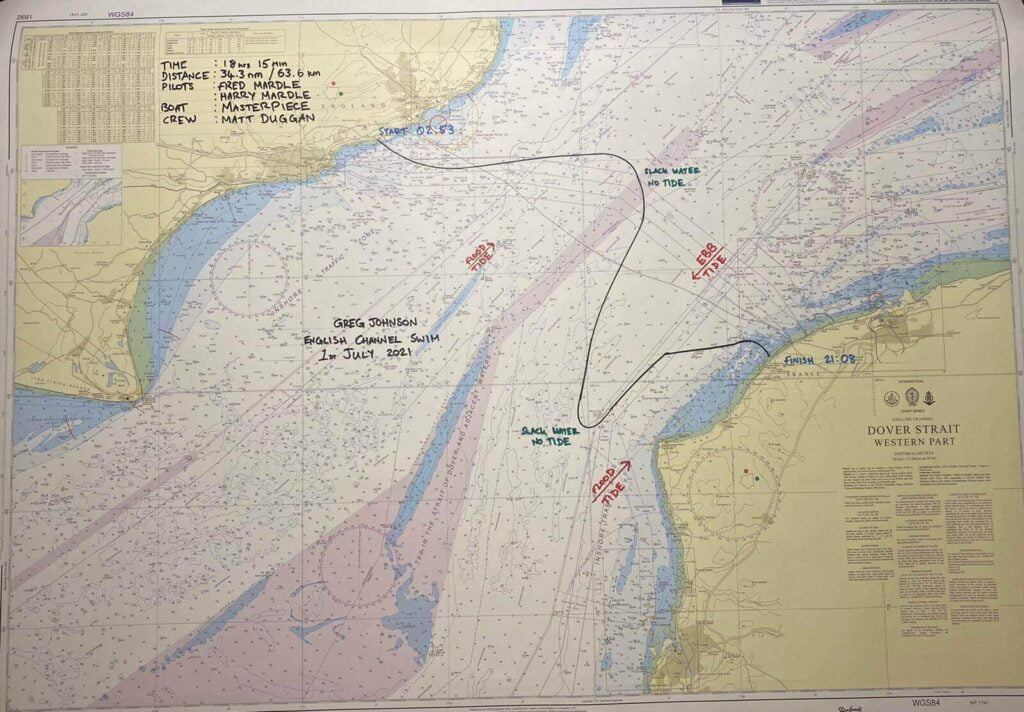 While getting there was a big feat, Mr Johnson's attempt at swimming the English Channel wasn't all smooth sailing, battling challenging tides and mental doubts most of the swim.
"For me, on all my marathon swims I struggle with the unknown of when it is going to end and that plays with me," said Mr Johnson.
"I didn't know accurate details of how far away I was from finishing, I used to be the same on mountains but I'm not any more because I am more experienced with them.
"But with marathon swimming, I am a relative novice, so I find it really helps knowing how far I have to go.
"The first 20-kilometres I did in six hours, so I was flying but then things changed from there, the tide and the currents got quite bad.
"I remember getting to the 12-hour mark and asking how far away I was. Matt Duggan, who was my support, told me I was only five kilometres away but then about four hours later I asked again and he replied the same.
"That was the hardest part for me because I was pretty much going backwards in the water and I was getting quite grumpy and annoyed because I didn't know exactly how far away I was from finishing with the terrible currents and tides."
The notorious ever-changing and challenging currents and tides of the English Channel wasn't the only challenge Mr Johnson encountered on his swim.
"Right in the middle of fighting against the tide and essentially going backwards for three or four hours, I was hit with our boat breaking down," said Mr Johnson.
"My skipper out of nowhere just said swim around the boat for ten or fifteen minutes, while I try and get the boat running again because it's broken down.
"All I was thinking was 'are you kidding me, how the f**k is this happening to me?', it was really frustrating because I just felt like it was another curveball that I had to overcome to make it.
"Looking back on it now though, I am glad it happened because in my next marathon swim I will know how to handle things like that better and hopefully I don't have any more unpleasant experiences like that in my upcoming swims."
What's harder? Everest or the English Channel
You are all probably wondering, which of the challenges did Mr Johnson find harder – Mount Everest or the Everest of the sea, the English Channel?
"Mentally, Mount Everest is extremely draining for the two months you are climbing it whereas the English Channel is draining in the lead up with all the training leading up to the actual swim," said Mr Johnson.
"Then you get to swim and it's tough but it's only one day, so it's actually pretty fun.
"Looking back at both experiences I would say Mount Everest was a harder experience across the board."
So, what's next?
There's no stopping Mr Johnson from finding a new mountain to climb or marathon swim to conquer after completing the Peak and Pond.
"My next challenge is the Rottnest Channel which I have in a couple of weeks and then the twenty-five kilometre Port to Pub swim," said Mr Johnson.
"I have done these swims before and enjoyed them and it's funny because I now call them training swims.
"Completing these swims tees me up to meet with Chloe in 2023 and I know that sounds a while away but it will come around quickly, and then from there I will do the Catalina Channel.
"I'm also hoping to finish the Australian Triple Crown of marathon swimming somewhere in there too.
"Mountain wise I am aiming to do the Carstensz Pyramid in Indonesia which is Oceania's biggest.
"So I guess you could say I have a lot going on but it is nice to try and do something to push myself out of my boundaries even though I am just an average guy."
Mountain and marathon swim rankings
Mr Johnson ranks his top nine mountain and marathon swim challenges from 1 (hardest) to 9.
1. Denali, Alaska
This was the hardest in terms of height, endurance, cold and technical difficulty.
2. Mount Everest
This was the second hardest only due to the nature that a lot of carrying of equipment isn't done by the climbers.
3. Rottnest 20km Swim #2
We had horrendous conditions and battled through despite wanting to stop after 15km.
4. English Channel
I had great conditions but a few curveballs in the swims and nasty tides meant for a very long day! That along with 14-degree water made it tough.
5. Mount Elbrus, Russia
I had to climb this twice as it was very unpredictable. It was one of the harder summit nights there are.
6. Rottnest 20km Swim #1
This was my debut marathon swim and all the nerves and inexperience came to the surface. There were lots to learn from this one.
7. Aconcagua, Argentina
Another mountain that took two attempts and is easily the longest slog of any I've done. This mountain gave me the knowledge that I was comfortable with high altitudes.
8. Rottnest Swim #3
A much better swim and one that saw me well prepared for the English Channel.
9. Mount Kilimanjaro
It was a hard climb back then but compared to what has been done since it slips down the line. It was an amazing experience to start trying to conquer the seven highest summits of the world.