Choosing your first ocean swim can be an exciting yet daunting experience.
You might be worried about what distances to enter, whether you'll be fit enough, or how to read the conditions, but worry not, because everyone has been there before and you only have one first event to get through! 
With ocean swim events filling up our weekends throughout Australia there is bound to be a perfect first ocean swim for you. 
Here are our top tips on how to choose your first ocean swim event.
1. Start small, start slow
It can be easy when entering your first ocean to get excited and enter a distance that stretches your limits. 
Swimming in the ocean is a lot different from swimming in the pool, you have to take into account the natural conditions including swell, wind and currents, just to name a few. Then, there's the added excitement of the event environment, the group starts and the jostling for position in the water.
When entering your first ocean swim, start with a manageable distance such as 500m or 1km. When you've successfully completed this distance you can work your way up to the 2km, 3km and even the 5km ocean swims.
At the start of your swim, keep to the back of the starting pack and take your time to enter the water and find your own space and rhythm.
2. Enter at the last minute 
We can all get caught up wanting to enter our first ocean swim as soon as entires open, but the important thing to do is wait if it's your first event. 
By waiting until the last minute you can check the surf forecast to see if conditions will be suitable for your first ocean swim. Ideally, you're looking for flat, or small surf, light winds, with nice clean water conditions.
For first-timers, we recommend entering the week of or even the day before entries close.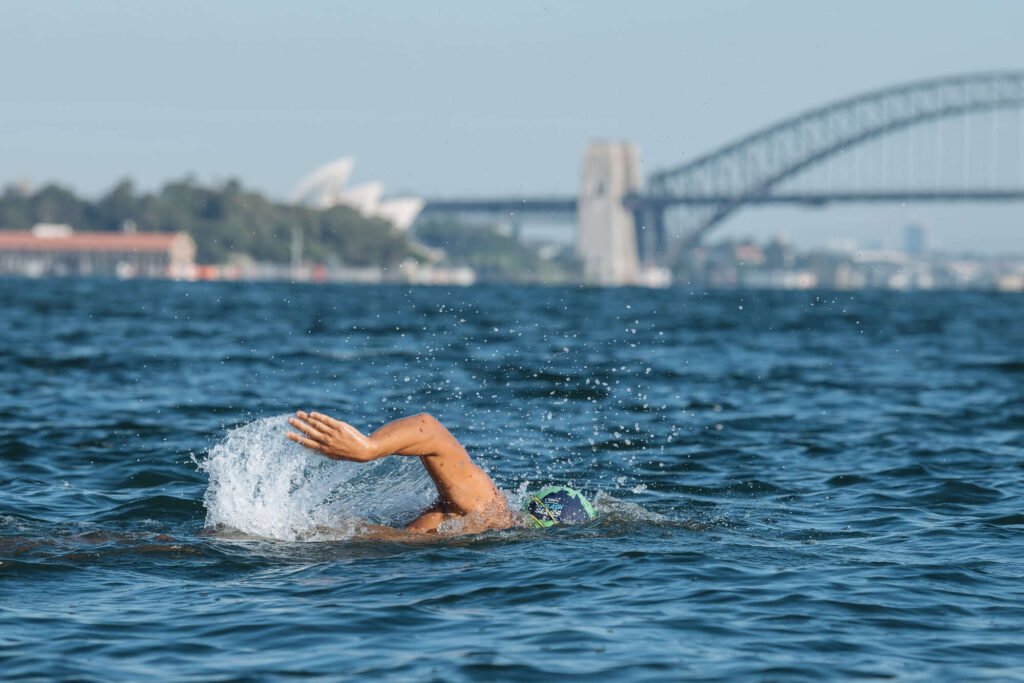 3. Choose a flat water location 
When choosing the location of your first ocean swimming event be sure to take into account the different types of swim locations. Is the event being held at the beach? in the bay? in a river or lake?
With so many things to deal with when moving from the pool to open water, choosing a flat water location, like a sheltered bay, a harbour or an inland waterway will mean you don't have to worry about all the conditions a beach-based ocean swim can throw up.
With fewer things to worry about, you can focus on learning to swim in an organised group event, relaxing and enjoying your first experience.
4. Enter with a friend
Entering your first ocean swim with a friend is a great way to share the experience because you'll have a training buddy in the lead-up and a support buddy on the day. 
Having a friend join you for your first ocean swim will also make you feel more comfortable during your swim and take the edge off your nerves on the start line.
5. Scout your location
In the weeks leading up to your first ocean swim, take the time to scout out the location the event will be held at. 
Head down to the venue and find out where the best place to park is, what the beach looks like and where the course will be located.
You'll also want to go for a swim at the location to be comfortable with your surroundings including; the break, sandbanks and currents. 
By familiarising yourself with the location, you'll feel more comfortable come the day of your first ocean swim event.