The Covid-19 pandemic has boosted ocean swimming across the world and Port Phillip Bay in Melbourne is no exception.
Peter Hendriks, recognised as the 'go-to' guy across the Bay for open water swimming, has seen people's perception of open water change as out-of-the-box exercise options have become a necessity. 
In this feature, Suzie Ryan talks to Mr Hendriks about the re-birth of open water swimming in Melbourne, the growth of the online community of Bay swimmers, and the increasing popularity of cold water swimming.
Listen to more: The podcast episodes throughout this article are of interviews with open water swimmers who swim in Port Phillip Bay, from OceanFit's ONSHORE Podcast.
Podcast episode: The Bay Open Water Swimmers are a super hardy bunch of open water swimmers from Black Rock, in the Bayside area of Port Phillip Bay, Melbourne.
Yes, open water swimming in Melbourne is a thing
When you meet an open water swimmer from Melbourne, usually the first question is, "how?!"
Melbourne isn't exactly known for its warm inviting waters and beautiful sandy beaches.
Previously home to only a small number of open water swimmers, most famously the Brighton Icebergers (listen to John Locco talk about the history in the podcast episode below), Melbourne has seen a rapid rise in open water swimming participation thanks in no small part to the pandemic.
"We really are going through a bit of a re-birth in open water swimming in Melbourne," said Mr Hendriks. 
"It is in its infancy days compared to what it's like in Perth, New South Wales and Queensland but it is continuing to grow."
Previously many open water swimmers were worried about swimming in Melbourne's 8-degree water and getting hypothermia but because of the Covid-19 pandemic, many are realising otherwise.
"I think the pandemic made people realise that swimming in cold water doesn't necessarily give you hypothermia," said Mr Hendriks. 
"And for those still worried about it, there is a nice little tool called a wetsuit now that swimmers can use, which makes swimming in cold water more achievable.
"Swimming in cold water in Melbourne has come through necessity with the pandemic, but many people have been pleasantly surprised with their experience, which is where the rise in open water participation down here has come from."
Swimmers in Melbourne have been drawn to Port Phillip Bay to start their open water journey because of the safer environment it offers.
"We don't have rips, tidal challenges or big swells like you do in the open ocean," said Mr Hendriks, who also runs some of his swimming lessons through his business Swimwell in the open water. 
"The Bay gives us the ability to swim along the coastline and it doesn't get that deep.
"At the deepest, it is probably only three or four metres and you can still see the bottom which is great for those a bit hesitant because it makes them more comfortable and they don't hit the panic button when they can't see the bottom, so they enjoy it more."
Podcast episode: John Locco talks about the founding of the Icebergers, the history of the club and what led him to become the driving force behind the saving of the iconic Brighton Baths.
A community drawn to the water
With the pandemic forcing people to look outside their comfort zone more and more to find ways to be active with gyms and pools closed, many found themselves online and onto the Bay Open Water Swimmers Facebook group.
The group has grown to have over two thousand members ranging from the beginner open water swimmer through to the more experienced.
"We are seeing all sorts of swimmers trying open water swimming in Melbourne now," said Mr Hendriks. 
"The good thing about the Bay Open Water Swimmers Facebook group is that people are putting posts up to find other swimmers like them.
"So they are connecting with each other and creating their own little group within the Bay Open Water Swimmers.
"We are seeing people swimming with two or three other people and then all of a sudden they have their own group of over 10 people, which is great to see them grow their own group within the Bay Open Water swimmers group."
A great example of one of these smaller groups is a group now called the 'Sloths'.
"The Sloths are a group of swimmers who thought they were slower than the average swimmer, so that's how they got their name," said Mr Hendriks. 
"But they started off with three swimmers and have now grown to 50 or 60 swimmers.
"They all turn up at the beach now and head off with big smiles on their faces out into the water and everyone is swimming with each other and they stop at all the little holes around the place and they just have a great time."
Podcast episode: John Van Wisse has a long and successful career in marathon open water swimming, including numerous Channel crossings, a circumnavigation of Manhatten Island, and swimming across Port Phillip Bay – many of which were records at the time.
A celebration of swimming
Those that swim with the Bay Open Water Swimmers are known for their mission to include everyone no matter their swimming ability.
"One of the things we really push through the Bay Open Water Swimmers is the values of being inclusive, diverse and knowing that no one size fits all," said Mr Hendriks. 
There's also an inbuilt belief in celebrating everyone's success in the water no matter how big or small is important.
"Every time a group swims we always look for people's little wins," said Mr Hendirks. 
"This might be someone swimming further than they ever have before, or swimming in the coldest water before, or even just looking to see if anyone has achieved something that they should be excited and proud of.
"We are all about celebrating people's little achievements because that's what open water swimming is all about not who can swim the fastest."
Podcast episode: Dee Greenwood is a self-confessed 'crusty mermaid' who is a regular open water swimmer out of Brighton, Melbourne.
The cold water effect
Coldwater swimming has grown in popularity over the last few years, in part due to the interest in the Wim Hof Method and the emerging health benefits of cold water swimming.
"Coldwater swimming has definitely grown, not only here in Australia or even Melbourne, but globally," said Mr Hendriks. 
"People's knowledge in cold water swimming has grown and they are now wanting to incorporate their learnings into their open water swimming."
One of the benefits of having some of the most easily accessible cold water for most of the year is that Port Phillip Bay has quickly become the home of cold water swimming in Australia.
"The Bay probably has the coldest swimmable water in Australia, even when taking Tasmania into account, where they swim in the ocean," said Mr Hendriks. 
"The water down there doesn't get down to 8 degrees as it does in the Bay unless you are swimming in freshwater lakes."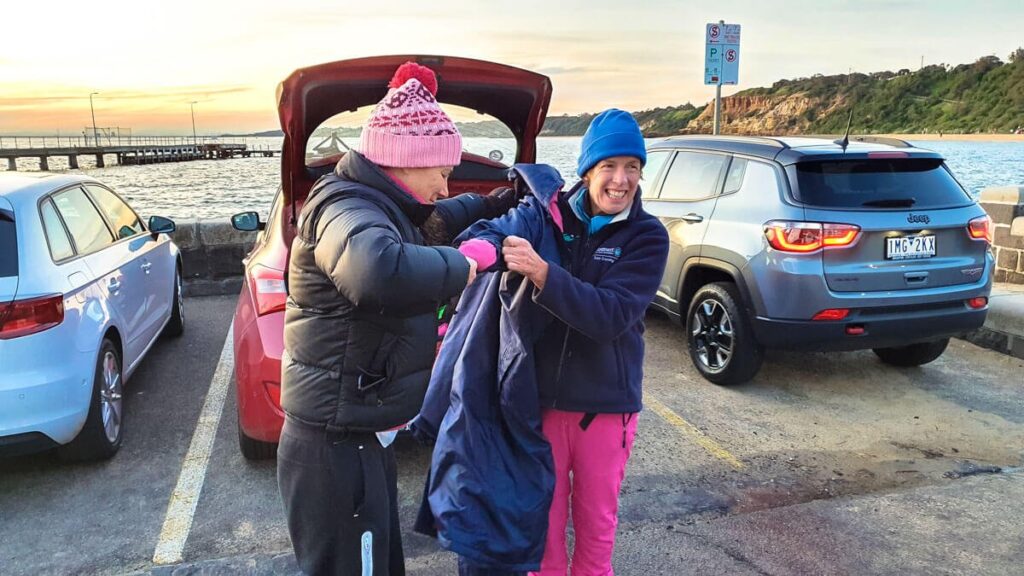 Melbourne has become the mecca for cold water swimmers in Australia with a growing number of swimmers choosing not to wear wetsuits.
"We have people who don't wear wetsuits during winter and that then interests other people who think 'I wonder what it would be like to do that?' and that then brings more people down to try it," said Mr Hendriks. 
"We also have a lot of people who are trying to go longer into the year without a wetsuit.
"Every year we have people who come out saying 'Oh, this was the first winter I have been able to swim without a wetsuit' and they are really chuffed with themselves.
"It is almost a form of personal empowerment for them."
For those wanting to try cold water swimming, Mr Hendriks recommends only getting into it after taking all the risks into consideration. 
"I would say only try cold water swimming after talking to someone who is well versed in doing it and always make sure you are accompanied by someone."
Podcast episode: At 81, Annette is the oldest female Brighton Iceberger and has been swimming with the Icebergers for more than 40 years.
Making it official in support of the sport
The increase in popularity of open water swimming and the Bay Open Water Swimmers has prompted Mr Hendriks to start the Bay Open Water Swimming Organisation. 
"We have grown to the point where people are seeing the group as a great location to get information on all things open water swimming in the Bay," said Mr Hendriks.
"So we have decided to start the Bay Open Water Swimming Organisation to raise awareness and educate people on the right way to open water swim throughout Victoria.
"We also want to be a body that represents all of the swimmers in the Bay and give them a voice."
One of the primary goals of the Bay Open Water Swimming Organisation is to educate swimmers on water safety in the Bay.
"There are some swimmers who because they are new to open water swimming they don't understand where the open road is in the water and start swimming in jetski and boat lanes which is dangerous," said Mr Hendriks. 
"I like to say that it's like seeing someone walking across the freeway, you think, 'what is that person doing?'
"But they are doing it because they don't know where the freeway is and that's what it's like for these swimmers, they don't know it's a boat or jetski lane.
"So really we just want to educate people on water safety to make the open water a safer place for swimmers, boaters and jet skiers."
Podcast episode: Don Warner's love of open water swimming has infiltrated his travels, including partaking in ice swims on polar cruises. As a keen writer, Don produced the book 'Beyond The Tip – Tales of the Icebergers of Brighton' as a way of sharing the stories of over one hundred Brighton Icebergers.