The Sydney Skinny is said to be the world's only nude open-water swim, where swimmers strip off their clothes, leap out of their comfort zones and enjoy a joyous nude open-water swim, around a course in Sydney Harbour.
Returning on the 12th of March, 2023, after a three-year hiatus, organisers are looking to put on quite the show.
Not only are they celebrating 10 years since the inaugural event, but they are also welcoming new sponsor Skin Check Champions on board – a match made in heaven, it would seem.
Taina Taylor, The Sydney Skinny's new event director, has been working feverishly to get the event off the ground and was excited to let us know what swimmers can look forward to this time around.
"It's great to be back in 2023 after a few years off thanks to Covid and a lack of sponsors," said Ms Taylor.
"It'll be a big year, being our first one back in a while and then we are also turning 10 so that will be a big celebration.
"In terms of the event, it is still exactly the same as it was before our hiatus and participants can expect it to be run exactly the same way as it has been before."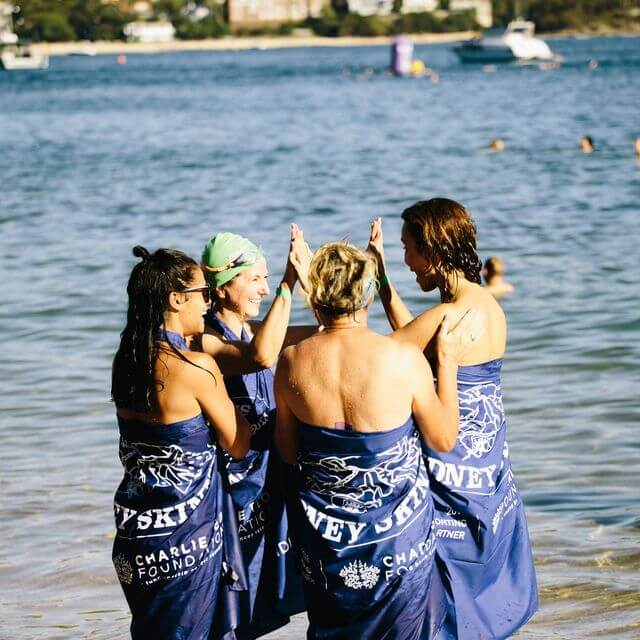 The biggest change to The Sydney Skinny in 2023 is their new partnership with Skincheck Champions.
"I am most looking forward to working with our new charity, Skin Check Champions, said Ms Taylor."
"They are a great charity and they are the people who bought out Spencer Tunic (who you might have heard of from his recent nude Bondi beach photoshoot), so we can expect to see big things from them at the event.
"They are actually currently getting together a national pilot for skin checks so they will be doing skin checks on the day and educating everyone on the best way to prevent skin cancer.
"You can also expect to see La Roche Posay there as they are a sponsor of Skin Check Champions handing out sunscreen to make sure everyone is covered up before hitting the water nude."
Skin Check Champions are a non-profit organisation raising awareness of skin cancer and the importance of skin checks and early detection. Their goal is to win the race against skin cancer by championing early detection and halving the number of Aussies who die from melanoma by 2030.
For those a bit nervous about stripping off and going for a nude swim, Tania had some great advice.
"The event is all about body positivity and acceptance. Both self-acceptance and acceptance of others," said Ms Taylor.
"Really, it is about letting go of your inhibitions and jumping in the water and feeling that rush of adrenaline you get when you go for a nude swim.
"And really, no one can really tell that you are nude once you enter the water, and when you exit you will be given a stunning The Sydney Skinny Sarong to cover up and no one will even know that you were nude.
"My best advice is to get your friends together, let go of all fear and uncertainty and just have some fun on the day because it is a really fun event.
"And if you aren't a swimmer you can still do it as we have the 300m course as well as the 900m course and if you are still uncertain you are more than welcome to bring a flotation device and just have some fun out in the water."