For most ocean swimmers, going for an ocean swim during daylight hours is enough of a thrill.
But it's not enough for an emerging group of adventurous thrill-seekers who are taking to the water under the light of a full moon.
What's it all about?
Full moon swimming is pretty self-explanatory; it's the art of swimming in the ocean on the night of the full moon.
Swimming at night brings another level to ocean swimming and is a new experience to tick off the bucket list. 
However, full moon swimming is much more than just swimming in the ocean at night.
It's about swimming with like-minded people who want to experience more than just their normal daytime ocean swim.
It's about creating a community while jumping out of your comfort zone and exploring the ocean in a way you would never usually.
But, most of all, it's about seeing your regular world in a whole new light. 
Rising in popularity
Full moon swimming has been gaining popularity and momentum for a few years across the US, UK and Europe and more recently here in Australia for its out of the box concept and thrill of going against the grain.
Zoe Little's 4SEAsons swimming group, in Sydney's eastern suburbs, first started full moon ocean swims three years ago out of the protected enclave of Clovelly Beach.
"The idea of full moon swimming felt really cool and fun, to experience something we do every day at night in the darkness under the moonlight", says Little.
Joining 4SEAsons in the full moon swimming craze is an offshoot of the social swimming group the Werri Point Swimmers, led by Scott Gutterson and Simon Sadler, called the Werri Point Moonlighters.
Started two years ago, Gutterson and Sadler aren't quite sure what sparked the offshoot.
"I can't remember exactly how it came about, but I think Simon and I thought it would just be a new experience in the ocean, and we all love the ocean, so it was really just another feather in the cap, and it turned out to be a pretty cool thing to do," says Gutterson.
Sadler remembers it a little bit different, suggesting Gutterson led the way on an idea that everyone thought was crazy at the time.
"I think it was Scott who kind of just came out and said 'wouldn't it be cool if we did our usual morning swim on a full moon at night?'
…wouldn't it be cool if we did our usual morning swim on a full moon?

Scott Gutterson
"At that point, everyone kind of just looked at each other and laughed and went, 'Oh, you're funny, Scott', but as it turns out, it was a pretty good idea, and we've loved it ever since," says Saddler.
It seems the reasons full moon swimming has become popular in the open water and ocean swimming community is two fold.
Many believe that when the moon is full, a certain type of magic and energy surrounds us that cleanses the soul, increases our senses and draws a stronger connection between us and nature.
Whilst for others, the reason is purely objective, they swim under a full moon simply so they can enjoy the challenge and see the ocean in a different light.
There's a sense it's a very different experience
As you can imagine, swimming in the dark, under a full moon, lit up only by shining stars and the moonlight hitting the water is an awe-inspiring experience on its own, however, it's the new sights and sounds of the night that combine to expand the experience beyond just another swim.
Little has a couple of favourite sights she looks forward to every full moon swim, from seeing the usual fish in a different way to the spectacular sight that is a group of swimmers swimming around lit up by multi-coloured glow sticks.
"I give everyone fluro glowsticks to put on their head and around their wrists, so when we're in the water, and it's dark, all you see are these glowing fluro glow sticks floating along in the water.
"I can imagine it is quite a sight from shore as well, but in the water, it is a truly magical sight, says Little,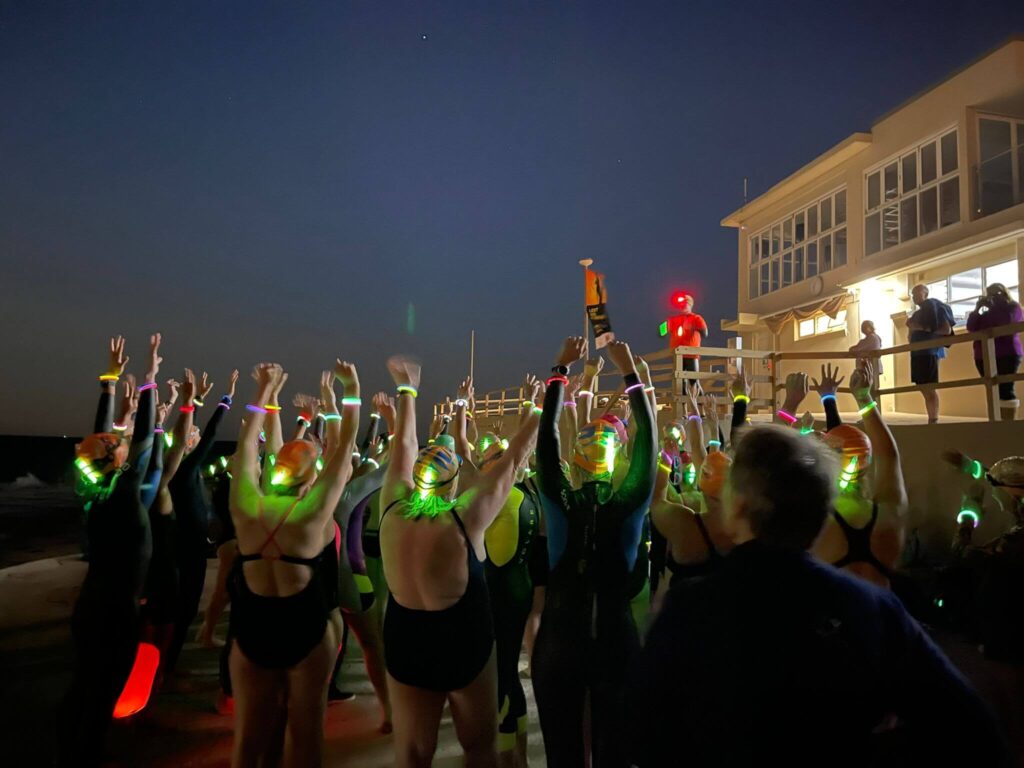 "It is also amazing to see the fish in Clovelly Bay in a different way as we swim along with the moonlight shining down through the water."
Like Little, Saddler loves seeing the beauty of the local marine life while enjoying his full moon ocean swim.
"We know our stretch of the beach really well, so we have kind of gotten to know the sea life that hangs around, and we've seen some really beautiful sea life on our full moon swims, says Saddler.
"We've seen stingrays, Groupers, Port Jackson and lots of other different fish, and we even had a Grey Nurse shark live here for a while, which was really cool.
"Actually, on our most recent full moon swims, we saw a giant Eagle Ray which was pretty breathtaking seeing it swim under us and look at it kind of silhouetted onto the bottom of the ocean floor."
The spectacular marine life is not the only thing that takes your breath away when full moon swimming; the ebbs and flows of the ocean and swell create some pretty spectacular sights when the moonlight is shining down through the water, says Sadler.
"I love the quiet moment you get when you're swimming, and the moonlight is just shining down through the water like a sunray during the day.
I love the quiet moment you get when you're swimming, and the moonlight is just shining down through the water like a sunray during the day.

Simon Sadler
"It's the shards of moonlight beaming through the water and watching the bubbles come up to the surface illuminated from the moonlight that really does it for me.
"There have actually been times when we have had bits of illuminance in the water, so when your hand it the water, it sparkles under the moonlight, which is a really beautiful sight to see."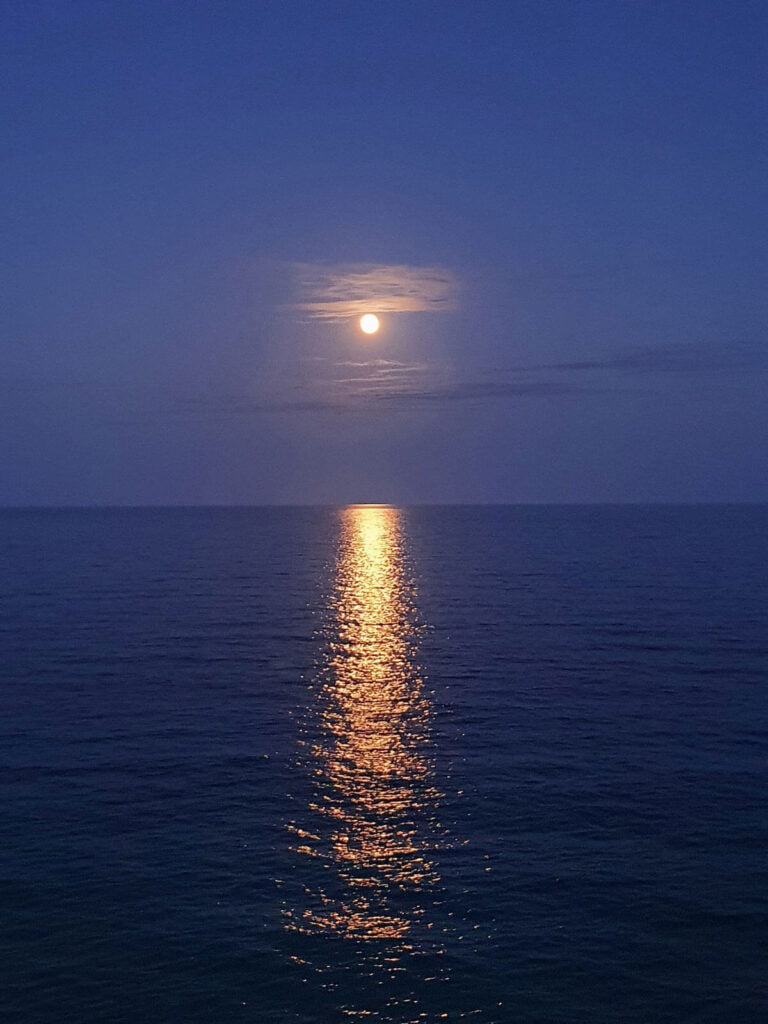 For Gutterson, it's not just the beautiful sights you see under the moonlight that gets him buzzing but more so the thrill of swimming at night when your senses are reduced in the darkness.
"My senses are just alive when I'm in the water under the moonlight because I lose that sense of vision in a way, so all my other senses are just on fire and I'm really feeling it.
"I do love rolling over on my back at one point in the swim and just taking in the stars above me; it gives me this little shot of adrenaline, and to tell you the truth, it makes me feel alive.
"I feel electric when I step out of the ocean, and that's what full moon swimming is all about; it's bloody fantastic!"
Like Gutterson, Little loves seeing the water from a different perspective and the thrill of night swimming gives her senses.
I think I get a bit more of a thrill at night

Zoe Little
"I think I get a bit more of a thrill at night cause you obviously have a lot smaller range of sight, so you just concentrate on the small area beneath you.
"Because of the limited range of sight, I like to enjoy the moment of blackness and know that I'm in a safe environment and just have a good time and enjoy myself."
Staying safe in an unfamiliar, familiar environment
Ocean swimming on its own is inherently risky, however, if the appropriate safety precautions are taken, full moon swimming can be enjoyed safely.
When going for a full moon swim, it's important to always check the conditions prior to commencing your swim, says Gutterson, because it takes a certain amount of luck and faith in 'Mother Nature' to get the right conditions to have a perfect full moon swim and really reap the benefits of the beautiful ocean landscapes.
"When we plan our full moon swims, we want to have the perfect combination of conditions to make the most of it and really enjoy the swim and make sure everyone is safe," says Gutterson,
"The moon has to be at the perfect angle to get enough light shining down into the dark ocean water, the sea state has to be just right, and the wind and swell have to be at a minimum, to really bring it all together and make it safe enough for us to enjoy the swim."
The conditions are not the only aspect you have to look out for to ensure you are safe during your full moon swim.
Little and her 4SEAsons swim group ensure they have spotters onshore watching and glowsticks to light up the swimmers, making it easier to spot them in the water.
"We have a couple of spotters on land along the side of Clovelly Bay, so they keep an eye out for us when we're swimming, and if anyone needs help, they can just yell out to them.
"We also have our fluro glowsticks, so we know where everyone is, and we have a couple of swimmers wearing tow floats, so if you need a rest, you can grab onto them,' says Little.
The Werri Point Moonlighters also employ spotters on the beach, glowsticks on swimmers, and a bright torch on land to act as a lighthouse, and when entering and exiting the water, and periodically during the swim, swimmers are counted to ensure that everyone makes it in and out safely.
"We always look at the tide and currents to make sure they are suitable and safe for the swim as well as many of us wear glowsticks, so it's easier for us to see each other, says Sadler.
"We also usually have a couple of spotters on the beach and one holding a big torch that acts kind of like a lighthouse to help guide us to shore."
"Simon or I usually count off before we get in the water, while we're in the water, and when we get out just to make sure everyone is there and safe," Gutterson said.
"We always try to make sure it's the safest environment as possible using our risk scale, the 'Sadler Scale' which we named after Simon, but at the end of the day, we always make sure everyone is confident in their abilities in the ocean, cause you need to be able to jump into the ocean yourself and get yourself out on your own, just like during a daytime swim," Gutterson said.
Are you looking for something to challenge yourself? A new activity to push you outside your comfort zone? If the answer's yes, then a dive into the dark side of full moon swimming could be for you.
Disclaimer: Ocean swimming at night can be extremely dangerous. This activity should only be attempted by experienced ocean swimmers who are willing to take on the personal risk.